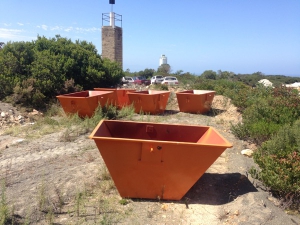 Whether you need your garden refuse removed, or you've got to get rid of a tonne of building rubble, CubeSkip are your most efficient and reliable providers of mini skips in the Knysna area.
Mini skips are best for when you don't have space for larger skips on your premises or if you have a moderate amount of refuse for removal.
We'll take the hassle out of rubble removal for you. All you need to do is fill the skip – we will remove it once you're done
We service both residential and construction sites – from Plettenberg Bay to Sedgefield and anywhere in between.